1999                                            
  2017
BASIC INFORMATION
Wrestling Name:
Birth Name: Matthew Joseph Korklan
Ring Name: Matt Sydal( 2003-2007, 2014-present)
                  Evan Bourne( 2008-2013)
                  MATT( 2000-2002)
                   Lance Sydal( 1998-2000)                  
 Nicknames:
current-
Air Bourne
Reborn/Rebourne
Yogi-Shaman 
previous-
The Hardcore Luchador( as Lance Sydal)
Cocky Coverboy( Matt Sydal, 2004-2006)
as Evan Bourne-
Little Evan Bourne( Sheamus)
The Human Wrecking Ball( John Cena)
Height: 5', 9''
Weight: 165 lbs( lightest)- 185 lbs( heaviest)
Hometown: Saint Louis Missouri
Resides: Clearwater, Tampa Florida.
CHARACTER INFORMATION
Disposition/Alignment: Choose from these options:
 Matt is a baby face but can go tweener depending on his history with an opponent. Respected for both his in ring acumen as well as his demeanor but he has struggled with ego and confidence. A prodigy, he is a backyard wrestler who became pro at 17 in Saint Louis Missouri where they were very strict about licensing wrestlers making that achievement much more impressive. Despite his origins Matt is a dynamic dynamo mixing amateur wrestling, martial arts, gymnastics, surfing and yoga with pro wrestling styles of American, Japanese( Puroresu), Lucha Libre and European. He has a myriad of i influences being a tape trader in his teens, his influences include the WCW and WWE's cruiserweight and light heavyweight divisions, Japanese death match wrestling and ECW, New Japan's super J cup. His favorite wrestlers are-
Sabu
Rey Mysterio
Dean Malenko
Eddie Guerrero
Bret and Owen Hart
Ricky Steamboat
X Pac
Chris Jericho
Masato Yoshino( popularized the swinging fisherman as the Lightning Spiral which has been adopted by Tyson Kidd, Paige and recently Elias Sampson)
Jushin Thunder Liger( innovated the shooting star press)
Super Crazy
Tajiri
RVD
KUSHIDA
Edge & Christian
The Dudley Boyz
Omega- The Hardy Boyz, Lita, The Hurricane, Shannon Moore
wrestlers he's influenced-
The Miz
Melina
Matt Cross/ M Dog 20
Kofi Kingston
Ricochet
Seth Rollins
Mark Andrews
Neville
Will Ospreay
Flip Gordon
Facts about Matt Sydal-
1. His family is Jewish, he is more spiritual loves Ram Das
2. his father came out as gay when he was 15, he is straight and polygamous 
3. he became pro the same month and year as Brock Lesnar, same year as Cesaro, Kenny Omega and Kevin Owens.
His last backyard match- 
his pro  debut match- 
4. His first match with AJ Styles in 2004 made him famous- 
BIO-
Born March 19th 1983 he is one of four brothers, his parents are teachers. They were strict about education but very easy going allowing Matt to backyard wrestle and his father even helped him and his friends one summer build a ring in the backyard and did commentary.
His family is Jewish. When he was 15 his father came out as gay, he is straight but is in the polyamorous life style. In 2015 he dated Alicia Fox. 
Matt is a very odd person , a modern hippie which wasn't really marketed in WWE who made him into a white meat one trick pony.
The way the reborn thing happened and reborn is not just a gimmick. After being let go by WWE he instantly made a trip to the Peruvian jungle for an ayaschua retreat. ayaschua is a natured based psychedelic that makes  you find out your true goals/dreams, MMA fighters have taken it and never wanted to fight again, Matt was afraid he'd lose his love for pro wrestling but instead it enhanced it and brought it back to the level of passion he had as a teenager. Reborn Matt Sydal is the fully formed 34 year old modern-hippie, young veteran top super junior of the world.
Personal-
He is spiritual not religious and loves Ram Das.
A progressive politically and staunch supporter of marijuana for both medicinal and recreational purposes. Ironically given he's been smoking marijuana since his youth( one of his first Entrance themes was Dope Nose by Weezer) as of 2012 he needs it medicinally because of a motorcycle accident that has permanently injured his foot
https://www.cagesideseats.com/2015/5/7/8571057/matt-sydal-has-a-gross-foot
Matt is the guy a girl can bring home to her parents but also the guy you'd be able to smoke weed with and have super deep philosophical conversations with.
Matt speaks Japanese and Spanish, he studies quantum mechanics and physics as a hobby.
While becoming a star on the indies he went to the University of Missouri and graduated in 2005 with a bachelor's degree in marketing. He was chosen by WWE to train Floyd Mayweather for his WrestleMania match with Big Show.
Matt was a part of the early 2000s era of independent wrestling
Matt has been praised by
John Cena and his childhood idol Rey Mysterio.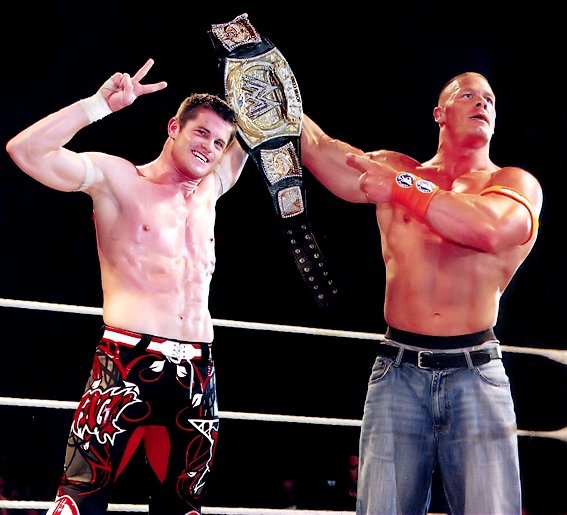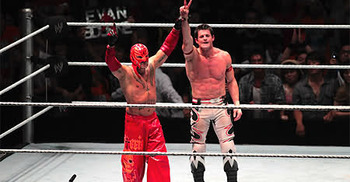 RINGSIDE INFORMATION
Theme Music: 'Song Title' by Artist
Special Entrance [Optional]: The character's special entrance. Write it exactly how you want it to be posted, preferably in present tense to fit the show format. If their entrance doesn't change or you don't want to write one, feel free to skip this.
MOTIVATIONS
What are your character's motivations for competing?
Most wrestling fans just want to watch wrestling, Matt had always wanted to perform in the ring and was a natural, a prodigy actually. 
Tendency to Cheat: rarely
IN-RING INFORMATION
Wrestling Debut [Optional]: October 20th 2000( pro debut)
                                      ( debut on the indies) November 21st 2003
Favorite Match Types [Optional]: Iron man match
Least Favorite Match Types [Optional]: body slam challenge 
Favorite Weapon: high surfaces
In-Ring Achievements [Optional]:  Since 2003 his win/ loss record is:
319 wins and 257 losses.
He has defeated veterans such as Chris Jericho, Edge and Chavo Guerrero.
He became the first American/ non Japanese wrestler to win Dragon Gate's Open Braveheart championship. He won IWA midsouth's 2005 ted peddy invitational pinning Kevin Owens in a  triple threat match. He's been world champion in OVW and he has won 4 cruiserweight championships, he has won tag team championships with Christopher Daniels, Kofi Kingston and Ricochet.
In ring skills-
Fearless but NOT reckless aerialist
VERY skilled at chain/ catch wrestling mixing martial arts with amateur wrestling as well as Lucha Libre, Puroresu and UK/European styles he is a technical wizard with lots of pins and submissions in his arsenal.
he has innovated many moves.
full arsenal: 
Signature Moves: Minimum of two (2), maximum of five (5)
1. The Slice- he innovated it in 2001 it was later adopted by Melina after she saw him do it on WSX- a reverse DDT Hold + split leg drop
2. Flying Walenda- innovated it, named by his father who did play by play commentary during his backyard wrestling days, a standing to jump super/avalanche frankensteiner later adopted by 
Rich Swann)
3. Flash Point- corner running attack swinging lariat- adopted and popularized by the Miz after seeing him do it on WSX( Miz admitted this on Colt Cabana's podcast)
4. Double Helix- a corkscrew variant of Chris Jericho's lion-sault
5. feint buzzsaw roundhouse + roaring/ spinning elbow to kneeling opponent
Finishing Moves: Maximum three (3) and one (1) optional ultra-finisher (UF)
Here It is/ Here We Go Driver- innovated this as well, a half nelson pumphandle slam latter adopted by Shingo as The Made in Japan and Pentagon Jr.
2. Air Bourne/ Shooting Sydal Press- an impeccable diving shooting star press with a tuck in mid air able to get 25-30 feet in the air. Able to do one legged even off of high surfaces and can land on his feet if opponent evades.
3. Namaste Lock( Muta Lock, while bridging he clasps his hands together in a praying taunt and screams " Namaste"
UF.  Sydal Special/ Cyclorama- super/avalanche belly to belly Moonsault slam
NOTE
I don't mean to be a diva about it but please watch his matches or the videos above, he is not a spot monkey his style is very similar to that of AJ Styles, Seth Rollins, Finn Balor.