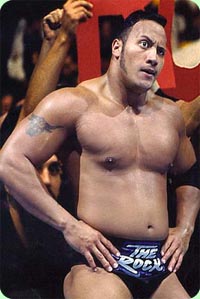 Real Name

 - Nasir Anthony Simmons



"Heartbreak People's Champion"

"The Spectacular One"



"The Man Who Commands Dem Fans"



 "Nastradamus"



Hometown

 - Atlantic City, NJ



Rock Wrecker = Rock Bottom



The Spectacular Elbow = People's Elbow 


New Jersey Jam = Diving Leg Drop


Double Edge = Spinebuster



Luster Purge = Teardrop Suplex



Blaze Kick  = Superkick to a Kneeling Opponent



 Doom Desire = Sharpshooter



High Flying Body Press to an opponent outside of the Ring



 Jumping Clothesline



Float-Over DDT



Spike Piledriver



Second Rope Bulldog



Crossbody (Diving)



                    Heart Break Elbow                     



 Arm Wrench DDT followed by a Kip-Up



  Flying Forearm Smash followed by a Kip-Up



People's Punch (Usually following a series of Right Hands)



People's Stomp



Pic Base

 - The Rock (1998/1999)



Entrance Music

 - Nas Is Like by Nas



Brief Gimmick Description

 - A young man who has it all. The look, The build, The In-Ring ablility, and The abilities on the microphone. He believes VERY Highly of himself and views himself as the future of the industry. He'll go toe to toe with any man to prove that.

Personal Interviewer

 - Hugh Jass


Brief Gimmick Description

 - Being The Nas' personal interviewer, he is constantly insulted and embarrased by his employer. May be looking for a spot on the official EAW interview team if the opportunity presents itself.
Nasir Escobar Wiki (Needs updating)