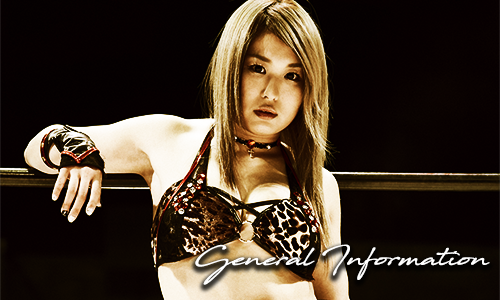 Ring Name: Azumi Goto
Real Name: Azumi Goto
Nickname(s):
Height:
Weight:
Hometown:
Age/Birthdate: 24 Years Old (Birthdate: November 10, 1992

Pic Base: Io Shirai (Stardom)
Segment Attire: Just regular clothing or a t-shirt over her attire.
Ring Attire: [1]
Entrance Attire: [1] [2]
Past Pic Bases:
Asuka (January 2016 - July 2017)
Hikaru Shida (July 2017 - January 2018)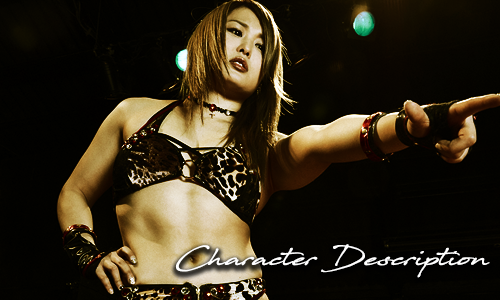 Gimmick: 
Every time she gets close to a title, she fails but with her every loss, she becomes ever so resilient, getting up from every loss and march on towards until she reaches her destination at the top of the mountain. Her motivation to be at the top is there but her self-confidence isn't, it's rebuild process for Azumi Goto as she hopes to keep her passion for wrestling by continuing to be in the ring even if it means to fight through the pain.
What are your character's motivations for competing? Her goals serve as the biggest motivation for her. Reaching the top of Empire, getting that first championship, becoming the Ace. All those are factors into Azumi's motivation.
Tendency to Cheat: Never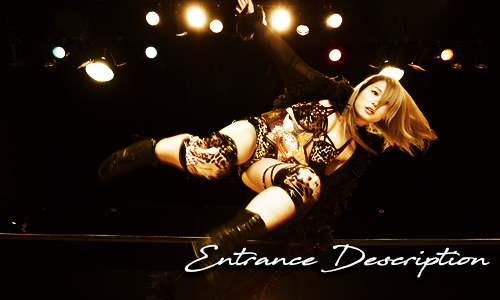 Entrance Theme:
Entrance description: As the opening of her theme hits, Azumi makes her way to the ring, high fiving fans along the move. If the match isn't important to her, she'll air guitar confidently to the riff of her theme song. As she enters the ring, she heads towards the closest middle turnbuckle, climb to pose for the fans.
Disposition (Face, Tweener, Heel): Neutral Babyface. 
Wrestling Style: 
Modified King's Road Style. A lot of emphasis on strikes and grappling along with flashy finishing manuevers
Weapon of Choice: Kendo Stick
Specialty Match: Ironman Match

Common Moves:
1. Basic Elbow smash aimed to certain body parts of her opponent. Usually the head.
2. Multiple Suplex Variations (Vertical, Snap, Tiger and etc)
3. Rolling Elbow Smash - used a lot more often then most moves
4. Lariat
5. Switchblade Kick
6. Dragon Suplex
7. Machine Gun Chops to a cornered opponent
8. Death Valley Bomb
9. Running Senton
10. Strong Style Strikes (Shoot kicks, Knife Edge Chops, palm strikes and headbutts)
12. Juji-Gatame/Cross armbar
13. Low dropkick to the opponent's leg
14. Michinoku Driver
15. Fujiwara Armbar
16. European Uppercut
17. Manji-Gatame/Octopus Stretch 
18. Swinging Neckbreaker
19. Dragon Screw Leg Whipe
Signature Moves: 
1. Elbow Suicida 
2. End Game (Double Underhook Facebuster)
3. Sliding Crash (Sliding Forearm Smash)
4. Machine Gun Elbow (Repeated Elbow shots to an opponent's head ending with a rolling elbow)
5. Shoryu Kekkai - Cloverleaf
6. Last Surprise (sling blade)
Finishers: 
1. Final Vent - (Top rope moonsault) - reference to finishing move for Kamen Rider Ryuki
2. Star Platinum Smash (Wrist-lock spin into a Elbow Smash) 
3. Shutdown Style German Suplex - (Arm Trapped Hestitation German Suplex with pin bridge)
UF. Endless World Style German Suplex (Electric chair drop into a bridging German Suplex) - name is a reference to Miss Manami's Endless World.
NOTE: Moves in bold are used more often.

-First and Former Control In the Vault Briefcase Holder
-2x Vixen/Woman Of The Week 
-3x Promoer Of The Week (With the other competitors of Shock Value 2017, RTR 10, PFPX respectively)
-4x Beef Of The Week
-1x Match Of The Week (vs. Megan Raine 
-1x Match Of The Year (Female Elitist) {2017}